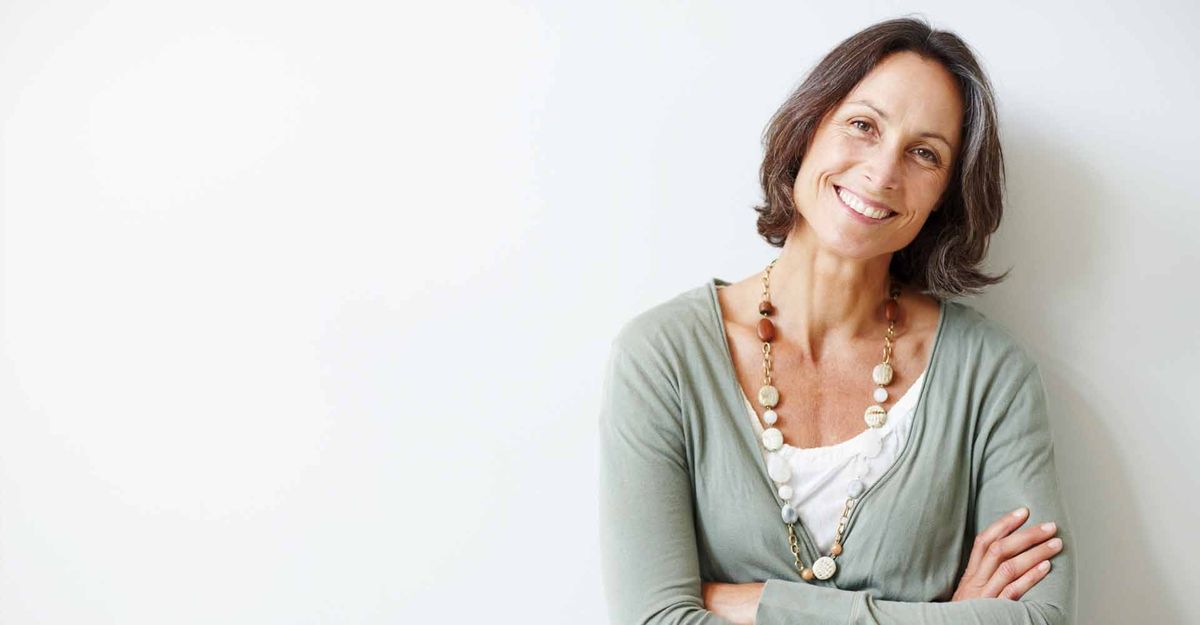 Frequently performed in conjunction with the extended deep plane facelift, a neck lift addresses the signs of aging of the neck comprehensively. The procedure tightens and removes excess skin, removes excess fat, and tightens loose muscle in a precise manner under direct visualization to restore the natural contours and length of the neck. Unlike many other approaches to the neck lift, Dr. Harmon's technique can sharpen the entire length of the jawline from the front edge of the chin to the back edge of the jaw, more closely approximating its youthful contours. This is performed by utilizing the superficial neck muscle as a support under the jaw. Furthermore, the extent of the neck lift is individualized to the extent of the aging process. This procedure is usually performed through a small incision hidden under the chin.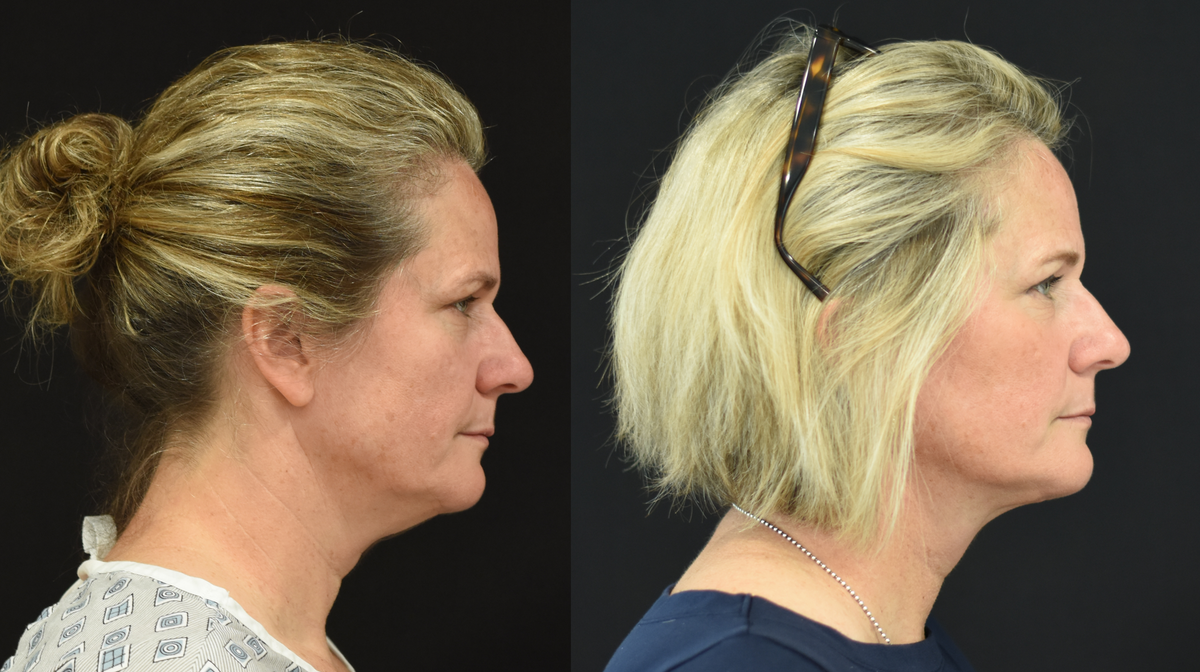 Am I a good candidate?
Candidates for a neck lift include those who have concerns about looseness of the skin and muscle in their neck or who have noticed excess fat accumulate in their neck over time. Most candidates range in age from 40s to 70s.
A consultation is essential to determine candidacy for the procedure, because there may be factors that preclude this procedure for certain individuals. Furthermore, plastic surgery of the neck can produce varying results. A consultation will help establish reasonable expectations about what a neck lift can and cannot accomplish as well as any anatomic and/or physiological factors that may influence your results. As with all facial plastic surgery procedures, results can vary.
Expected recovery
Recovery from a neck lift is specific to the individual. The duration of recovery will vary from person to person. The recovery time from a neck lift procedure is approximately 10 to 14 days for most individuals.
Dressings are removed the day after surgery. Sutures (stitches) are removed in a staged, progressive manner over the next 7 to 10 days after surgery. Makeup can usually be applied to the healing incision sites starting approximately 14 days after surgery. The healing process does not end at 14 days, however. For example, the incision continues to heal for months after surgery.
Some swelling and bruising are expected after a neck lift. Post-operative swelling and bruising generally improve significantly by 10 to 14 days after surgery. Swelling and bruising are expected to continue to improve and resolve in the ensuing days and weeks.
What to expect in a consultation
Expect a detailed, informative conversation with Dr. Harmon about your concerns and aesthetic goals regarding your neck. He will assess your anatomy and develop a personalized treatment plan to address your concerns and aesthetic goals.
Frequently asked questions
What type of anesthesia is required?

The neck lift can usually be performed under IV sedation. Some individuals may require general anesthesia.

Can a neck lift be performed without the extended deep plane facelift?

The face and neck are considered one anatomic unit because the anatomical structures blend together. Therefore, a facelift is almost never performed without a neck lift. The approach to the neck lift does depend on each individual's specific anatomy.

Is every neck lift the same?

No, the approach taken to the neck by Dr. Harmon differs depending on the aesthetic concerns of each individual, their anatomy, and the age-related changes to their anatomy.

Is the neck lift a "deep plane" lift like the extended deep plane facelift?

Yes, Dr. Harmon applies the same surgical advancements from the extended deep plane facelift to the neck lift. The neck lift is performed in the deep plane, releasing tension points in the neck and lifting and tightening both skin and muscle to provide a more natural and longer-lasting result than other neck lift techniques.

Is liposuction performed on my neck during a neck lift?

Liposuction is rarely needed during a neck lift. Fat is directly visualized and removed during a neck lift. This allows more precise contouring of the neck and improved healing of the neck. This is because an thin, even layer of fat can be kept on the underside of the skin in order to reduce the risk of scarring.

Can a neck lift create a neck profile different than the profile of my youth?

A neck lift can tighten loose muscle and skin and reduce the amount of fat in the neck. The goal of a neck lift is to bring the cervicomental angle of the neck closer to that of youth. The cervicomental angle is the angle between the more horizontal border of the lower jaw and the soft tissue below the jaw and floor of the mouth and the more vertical anterior border of the neck. The cervicomental angle tends to flatten and become more obtuse as we age due to loosening of muscle and skin and the accumulation of fat in the neck. A youthful appearing cervicomental angle is more acute. However, the cervicomental angle of youth is determined by multiple anatomic factors and may be more obtuse from birth. Therefore, while a neck lift can significantly improve the appearance of the neck, a more obtuse cervicomental angle would prevent the creation of a sharp, acute angle with a neck lift.

Can a neck lift treat the deep, horizontal wrinkles I notice in my neck?

A neck lift can treat the loose skin and vertical bands of muscle under the skin caused by loosening of the platysma muscle around the neck. However, a neck lift generally cannot treat the horizontal wrinkles that some individuals develop as they age.

Will I feel "tight" after a neck lift?

It is normal to feel some tightness around the neck after a neck lift. This is due to the procedure necessarily lifting and tightening loose skin and muscle. This sensation gradually improves over days to weeks.

Is the neck lift a painful procedure?

Facial plastic surgery procedures are generally well-tolerated by patients and typically involve little pain, especially when compared with surgery on other areas of the body. Patients are usually prescribed just a small amount of pain medication for after surgery. In fact, we have found most use only over-the-counter pain medication including acetaminophen and/or ibuprofen after surgery instead. And those who do use the prescribed pain medication usually only use it the first night after surgery. With that in mind, it is important to note that every patient perceives and processes pain differently. Some patients have a high pain tolerance. Others may be more predisposed to be more sensitive to pain. We at Harmon Facial Plastic Surgery are focused on balancing minimizing post-operative discomfort and maximizing safety.

Is a neck lift a common surgical procedure?

Yes, a neck lift is a common surgical procedure. The International Society of Aesthetic Plastic Surgery (ISAPS) releases statistics each year that provide insight into the state of plastic surgery around the world. ISAPS reported 22,947 neck lift surgical procedures were performed in the United States in 2020.
Why Choose Dr. Harmon
The mission of Harmon Facial Plastic Surgery is to help people along their journey towards self-confidence, to feel good about feeling good.
Dr. Harmon values making patients feel welcomed, listened to, and respected.
Dr. Harmon graduated with honors from Cornell University with a Bachelor of Science degree in molecular biology.
Dr. Harmon earned his medical degree from the University of Cincinnati.
Dr. Harmon underwent five years of extensive training in head at neck surgery at the prestigious residency program at the University of Cincinnati.
Dr. Harmon then underwent focused fellowship training in cosmetic facial plastic surgery through the American Academy of Facial Plastic and Reconstructive Surgery (AAFPRS) with the world-renowned surgeon, Dr. Andrew Jacono, on Park Avenue in New York City.
Dr. Harmon posts frequently and covers a wide range of topics, including procedure-specific information, volunteering, general health, and much more. Read more from Dr. Harmon by visiting his blog.
Harmon Facial Plastic Surgery can be reached here.
Disclaimer: This page is for educational purposes only and does not constitute direct medical advice. Moreover, this page should not be used as a substitute for direct medical advice. It is essential that you have a consultation with a qualified medical provider prior to considering any treatment in order to determine whether you are a candidate for treatment. This will also allow you the opportunity to discuss any potential benefits, risks, and alternatives to the treatment.