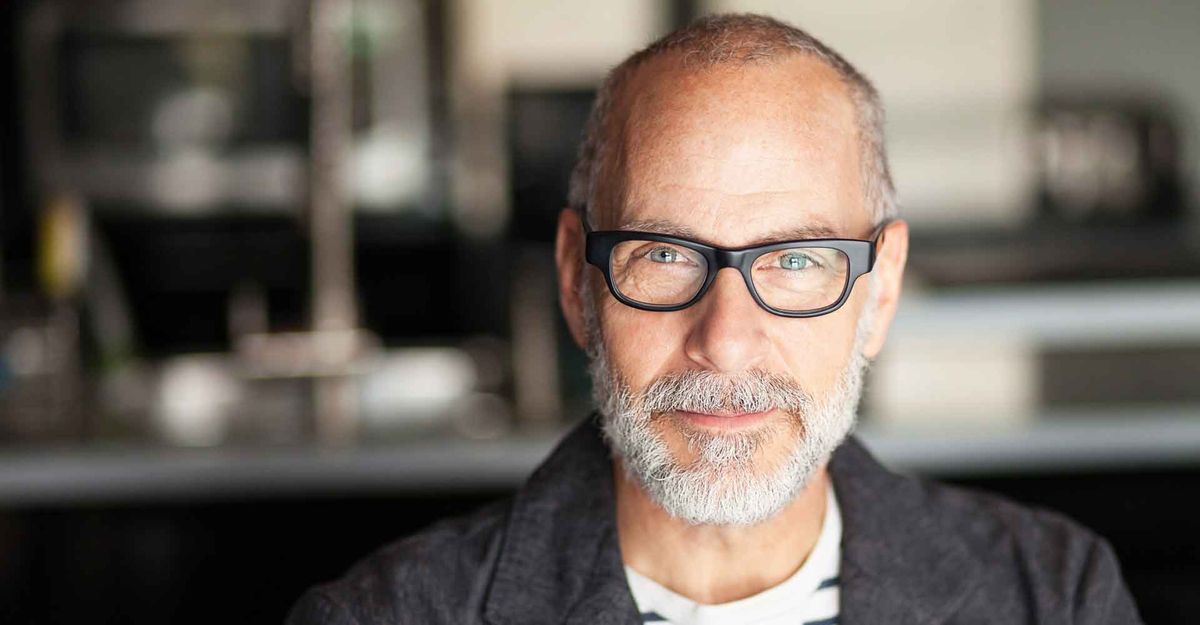 Men and women lose hair as they age, which can cause significant social anxiety, especially for individuals who suffer from significant hair loss in their 30s and 40s. They lose hair at a different rate, in different locations, and to a different extent. The hairline recedes in some. The "crown" thins in others. Many develop diffuse hair loss at the top of their head. Hair restoration surgery can be an excellent option to restore some of the hair coverage lost.
Hair restoration surgery is a procedure in which individual hair follicles – a unit of one to four hairs with the associated support structures – are transplanted from areas of the scalp where hair tends to be preserved with aging to areas of the scalp where hair follicles have been lost.
There are two approaches to hair restoration surgery, follicular strip excision (FUT) and follicular unit extraction (FUE). FUT involves the excision of a strip of hair with a concentration of hair follicles from the back of the scalp. This site is then carefully re-approximated with stitches to hide under the surrounding hair. FUE involves the use a device similar to a drill to gently remove individual hair follicles. The isolated hair follicles in FUT and FUE are transplanted to the desired areas of the scalp using the same technique.
It takes great skill and foresight to determine where to place available hair follicles in such a way as to produce natural results. The approach taken, FUT versus FUE, depends on a detailed analysis of the scalp, past medical history and past surgical history of every individual. Dr. Harmon is a fellowship-trained facial plastic surgeon who is focused exclusively on the surgical and non-surgical care of the hair, face, and neck. As a result, he has the experience and skill set necessary to perform hair restoration surgery safely and effectively.
Hair Restoration Before and After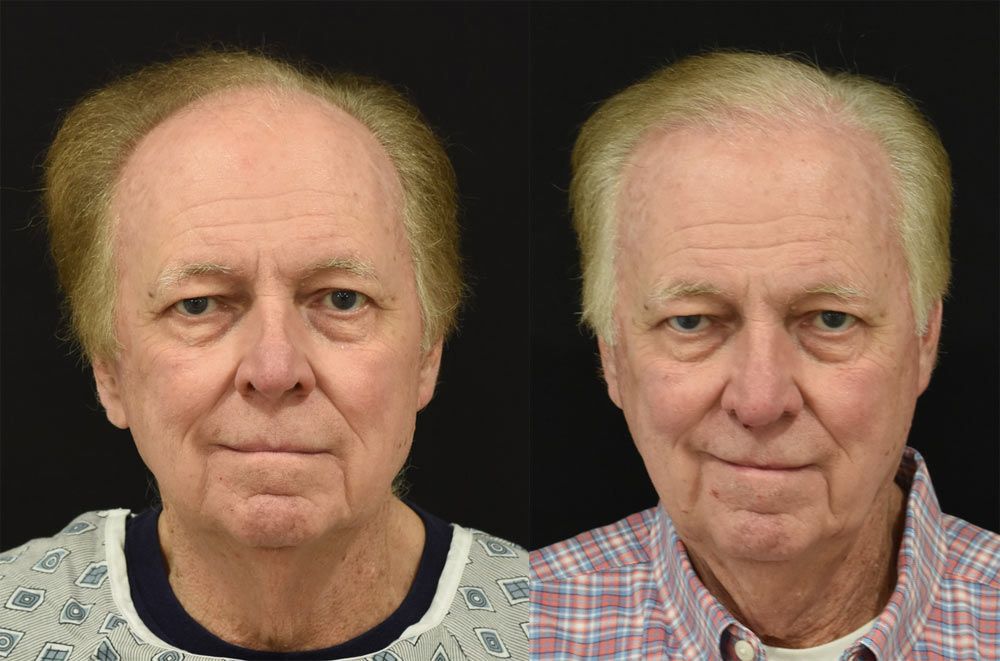 Am I a Good Candidate?
Candidates for hair restoration surgery include men and women who have concerns about thinning hair and/or hair loss. Most candidates range in age from 30s to 70s.
A consultation is recommended to determine candidacy for the procedure, because there may be factors that preclude this procedure for certain individuals. Furthermore, hair restoration surgery can produce varying results. A consultation will help establish reasonable expectations about what hair restoration surgery can and cannot accomplish as well as any anatomic and/or physiological factors that may influence your results. As with all facial plastic surgery procedures, results can vary.
Expected Recovery
Recovery from hair restoration surgery is specific to the individual. The duration of recovery will vary from person to person. The recovery time from hair restoration surgery is approximately 7 to 14 days for most individuals. No dressings are necessary after hair restoration surgery. However, the implanted follicles are fragile and should be protected for the first few days to weeks after surgery. Sutures (stitches) are placed for a FUT procedure but not for a FUE procedure. Suture removal occurs in a staged, progressive manner over the first 7 – 10 days after surgery. Dissolving sutures are sometimes used which do not require removal. The healing process does not end at 14 days, however. For example, the incisions continue to heal for months after surgery. The hair transplanted requires months to grow as well.
Some swelling and bruising are expected after hair restoration surgery. Post-operative bruising is generally minimal. Post-operative swelling and bruising generally improve significantly by 10 to 14 days after surgery. Swelling and bruising are expected to continue to improve and resolve in the ensuing days and weeks.
What to Expect in a Consultation
Expect a detailed, informative conversation with Dr. Harmon about your concerns and aesthetic goals regarding your hair. He will assess your anatomy and develop a personalized treatment plan to address your concerns and aesthetic goals.
Frequently Asked Questions
What type of anesthesia is required?

Hair restoration surgery is generally performed with a combination of local anesthesia and oral medications to help patients relax.

Can anyone with hair loss benefit from hair restoration surgery?

While many individuals could benefit from hair restoration surgery, a detailed medical history and thorough physical exam are required to determine an individual's candidacy. This is because there are some medical conditions for which hair restoration surgery would not be appropriate. Some individuals may even require evaluation by a dermatologist and a skin biopsy to rule out nutritional, autoimmune, or infectious causes of hair loss. Also, some younger individuals may not be candidates for hair restoration surgery when their final pattern of hair loss is unpredictable.

Can my original hairline be restored with hair restoration surgery?

An individual's original hairline usually cannot be restored with hair restoration surgery unless they have experienced only minimal recession of their hairline. The benefits of improving the definition of the hairline and improving the density of the hair at the top of the head are significant. However, the number of hair follicles required to push a hairline forward is so immense that there are usually insufficient hair follicles available to transplant to restore the hairline and improve density behind it in a natural way. A frank, detailed discussion with your surgeon is essential to understand the results achievable with hair restoration surgery. A skilled, fellowship-trained facial plastic surgeon such as Dr. Jeffrey Harmon can provide a natural hairline result that fits the individual's face.

Is it best to understand hair restoration surgery by the machine used?

There are many devices marketed for hair restoration procedures. Most are devices used for FUE. FUE is not always the most appropriate approach for hair restoration surgery. Also, the machine used cannot replace the medical judgement necessary to decide whether someone is a good candidate for surgery or the surgical judgement necessary to determine how to harvest hair and where to place the hair follicles in the areas of hair loss. Seek a provider trained in a range of approaches to hair restoration surgery who can make appropriate recommendations for you. Dr. Jeffrey Harmon is a fellowship-trained facial plastic surgeon trained in the range of approaches to hair restoration surgery.

Is FUE scarless?

Neither FUT nor FUE are entirely scarless. All surgical procedures result in a scar. Creating a surgical site that is minimally visible with FUT involves careful surgical closure and wound care such that the incision can easily hide under the surrounding hair. Creating a surgical site that is minimally visible with FUE involves properly spacing the extracted sites diffusely and randomly throughout the donor site such that they become unrecognizable.

Can medical treatment complement hair restoration surgery?

Medical treatment is an essential adjunct to hair restoration surgery. For example, there are some nutritional supplements that can be helpful in preserving hair. Topical minoxidil and oral finasteride are both long-used medications that can preserve and regrow hair while in use. Finally, hair loss treatments can be used during and independent of hair restoration surgery to help preserve and regrow hair. The most appropriate approach to medical treatment requires consultation with your treating physician.

Can hair restoration surgery be completed with one procedure or does it require multiple sessions?

The plan for hair restoration surgery depends on the aesthetic goals of the individual and the limits inherent in their anatomy and past medical history. Hair restoration surgery often requires more than one session, because transplanting too many hair follicles at once can compromise healing. Also, allowing a portion of the transplanted hair to grow allows adjustments to be made based on the appearance of the previously transplanted hair. This approach can maximize the final results.

How do non-surgical hair loss treatments compare with hair restoration surgery?

Non-surgical hair loss treatments can serve as an adjunct to hair restoration surgery intra-operatively to improve the health and growth of transplanted hair follicles. However, these treatments alone, while effective in improving thickness and coverage of hair, are not as effective as hair restoration surgery. This is because hair restoration surgery can replace growing hair follicles in areas where they are not currently. The decision about whether to receive non-surgical hair loss treatments to the scalp only versus hair restoration surgery with these treatments depends on a detailed conversation with Dr. Harmon.

How long does it take to notice results from hair restoration surgery?

The transplanted hair follicles initially shed their hairs within a few weeks of the procedure. This occurs with all hair transplant procedures and does not indicate failure of the procedure. The hair follicles then regrow over the ensuing few months. As a result, it can take 6 to 12 months to identify the expected final results.

Is hair restoration surgery permanent?

The hair that is transplanted to the areas of the scalp where hair is lost tend to be resistant to the hormonal changes that cause the hair loss in those areas. Therefore, while those transplanted hair follicles that grow are expected to remain with age, those hair follicles which are native to the area remain sensitive to hair loss signals and can continue to be lost over time. Hair restoration surgery seeks to predict the most likely pattern of continued hair loss and hedge against it with the transplantation of hair follicles.

Is hair restoration surgery a painful procedure?

Facial plastic surgery procedures are generally well-tolerated by patients and typically involve little pain, especially when compared with surgery on other areas of the body. Patients are usually prescribed just a small amount of pain medication for after surgery. In fact, we have found most use only over-the-counter pain medication including acetaminophen and/or ibuprofen after surgery instead. And those who do use the prescribed pain medication usually only use it the first night after surgery. With that in mind, it is important to note that every patient perceives and processes pain differently. Some patients have a high pain tolerance. Others may be more predisposed to be more sensitive to pain. We at Harmon Facial Plastic Surgery are focused on balancing minimizing post-operative discomfort and maximizing safety.

Is hair restoration surgery a common surgical procedure?

Yes, hair restoration surgery is a common surgical procedure. The International Society of Hair Restoration Surgery (ISHRS) releases data annually about practice patterns in hair restoration surgery around the world. The ISHRS reported 149,254 hair restoration surgery procedures were perfomed in the United States/Canada in 2021, a 36% increase from 2010.
Why Choose Dr. Harmon
The mission of Harmon Facial Plastic Surgery is to help people along their journey towards self-confidence, to feel good about feeling good.
Dr. Harmon values making patients feel welcomed, listened to, and respected.
Dr. Harmon graduated with honors from Cornell University with a Bachelor of Science degree in molecular biology.
Dr. Harmon earned his medical degree from the University of Cincinnati.
Dr. Harmon underwent five years of extensive training in head at neck surgery at the prestigious residency program at the University of Cincinnati.
Dr. Harmon then underwent focused fellowship training in cosmetic facial plastic surgery through the American Academy of Facial Plastic and Reconstructive Surgery (AAFPRS) with the world-renowned surgeon, Dr. Andrew Jacono, on Park Avenue in New York City.
Dr. Harmon posts frequently and covers a wide range of topics, including procedure-specific information, volunteering, general health, and much more. Read more from Dr. Harmon by visiting his blog.
Harmon Facial Plastic Surgery can be reached here.