Surgery may be appropriate to revise or improve upon a facelift, neck lift, nose surgery (rhinoplasty), brow lift, eyelid surgery (blepharoplasty), lip lift, or other procedures that were performed elsewhere. Dr. Harmon is a fellowship-trained facial plastic and reconstructive surgeon who is focused exclusively on surgical and non-surgical care of the face, nose, eyes, and neck. He is specially qualified to perform revision surgery that provides natural results, which can often be more technically challenging than the original procedure.
The face continues to age after a facelift. The amount of time a facelift can last varies, depending on the procedure performed, the individual's genetic makeup and general health. Many people seek revision surgery when that time has elapsed. Others feel certain areas of their face were inadequately addressed. For example, most plastic surgeons perform an older technique - called a "SMAS" facelift - which does not treat midface fat droop. The extended deep plane facelift, on the other hand, lifts the midface fat that was not lifted in the original procedure. A "SMAS" facelift can also create a windswept or pulled appearance when the tension points of the face are not released and the skin is pulled in an unnatural direction. The extended deep plane facelift can treat this by releasing these tension points by lifting both the muscle and skin in the most natural vector, not too vertical or too horizontal. The overall effect is more natural and longer lasting. This technique does, however, require extensive training to perform. Dr. Harmon was trained in this procedure by its pioneer, Dr. Andrew Jacono.
A neck lift is an important adjunct procedure to a facelift. It not only addresses the signs of neck aging but also enhances the treatment of the jawline in a facelift. However, removing too much fat and not addressing loosening and drooping of muscle can lead to a "cobra neck" deformity, which appears as two large bands in the neck. Dr. Harmon's approach can comprehensively address all layers of the neck in order to treat the "cobra neck" deformity. And unlike other approaches to the neck lift, this approach supports the extended deep plane facelift by smoothing the entire length of the jawline from the front edge of the chin to the back edge of the jaw, fully restoring its youthful contours. This is achieved by focusing on restoring the natural function of the superficial neck muscle as a support under the jaw.
Revision nose surgery (rhinoplasty) is among the most complex procedures performed in facial plastic surgery. Often, revision rhinoplasty involves further reducing the size of an aspect of the nose that was partially reduced. This can include a residual hump on the nose, persistent bulbous tip, and a persistently wide nose. Alternatively, the nose may have been made it too small. This could include a collapsed bridge or pinched tip that may require reconstruction through the addition of cartilage support to the underlying structure of the nose. There are multiple minimally invasive to non-invasive techniques to acquire additional cartilage for use in the nose. The best approach depends on individual concerns, desires, surgical history and general health.
Revision Surgery Before & After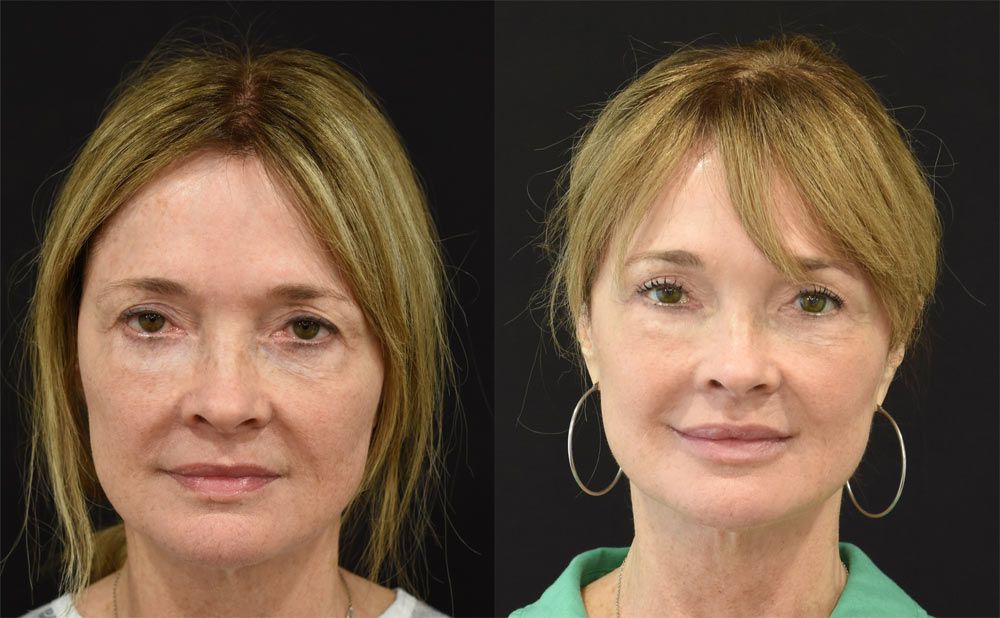 What to Expect in a Consultation
Expect a detailed, informative conversation with Dr. Harmon about your concerns and aesthetic goals regarding your face. He will assess your anatomy and develop a personalized treatment plan to address your concerns and aesthetic goals. It is critically important that each person understands the potential benefits and limitations of any revision procedure in order to determine whether it is appropriate for them. After all, as with all facial plastic surgery procedures, results can vary. Dr. Harmon and his team at Harmon Facial Plastic Surgery provide premier care throughout this process.
Why Choose Dr. Harmon
The mission of Harmon Facial Plastic Surgery is to help people along their journey towards self-confidence, to feel good about feeling good.
Dr. Harmon values making patients feel welcomed, listened to, and respected.
Dr. Harmon graduated with honors from Cornell University with a Bachelor of Science degree in molecular biology.
Dr. Harmon earned his medical degree from the University of Cincinnati.
Dr. Harmon underwent five years of extensive training in head at neck surgery at the prestigious residency program at the University of Cincinnati.
Dr. Harmon then underwent focused fellowship training in cosmetic facial plastic surgery through the American Academy of Facial Plastic and Reconstructive Surgery (AAFPRS) with the world-renowned surgeon, Dr. Andrew Jacono, on Park Avenue in New York City.
Dr. Harmon posts frequently and covers a wide range of topics, including procedure-specific information, volunteering, general health, and much more. Read more from Dr. Harmon by visiting his blog.
Harmon Facial Plastic Surgery can be reached here.
Disclaimer: This page is for educational purposes only and does not constitute direct medical advice. Moreover, this page should not be used as a substitute for direct medical advice. It is essential that you have a consultation with a qualified medical provider prior to considering any treatment in order to determine whether you are a candidate for treatment. This will also allow you the opportunity to discuss any potential benefits, risks, and alternatives to the treatment.