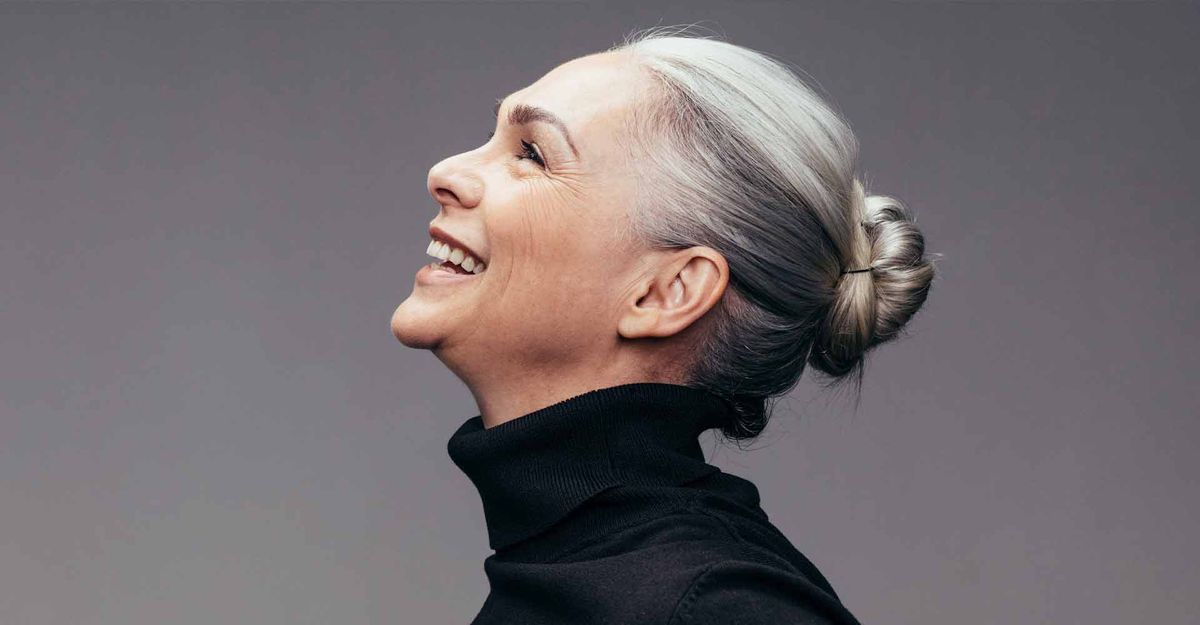 Earlobes can be injured due to any number of accidents and/or traumas because they are easily stretched or macerated. Split earlobes commonly occur after long-term use of heavy earrings or accidental traumatic removal after being caught on a mask, brush, or piece of clothing. Earlobe piercings and gauges can stretch the earlobes out. Earlobes can also lengthen as we age. Dr. Harmon uses fine instruments and suture to subtly repair and reshape the earlobes, thereby restoring their youthful length and proportions. The procedure can be performed under local anesthesia or IV sedation in concert with other procedures, such as the extended deep plane facelift. Earlobes can typically be re-pierced approximately 2 to 3 months after surgery.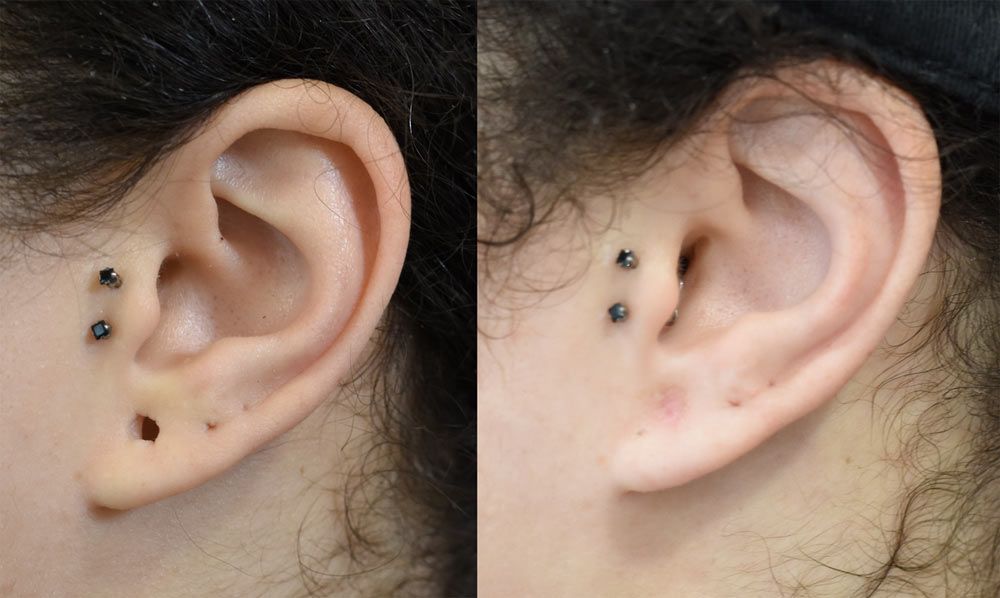 Earlobe Repair Before & After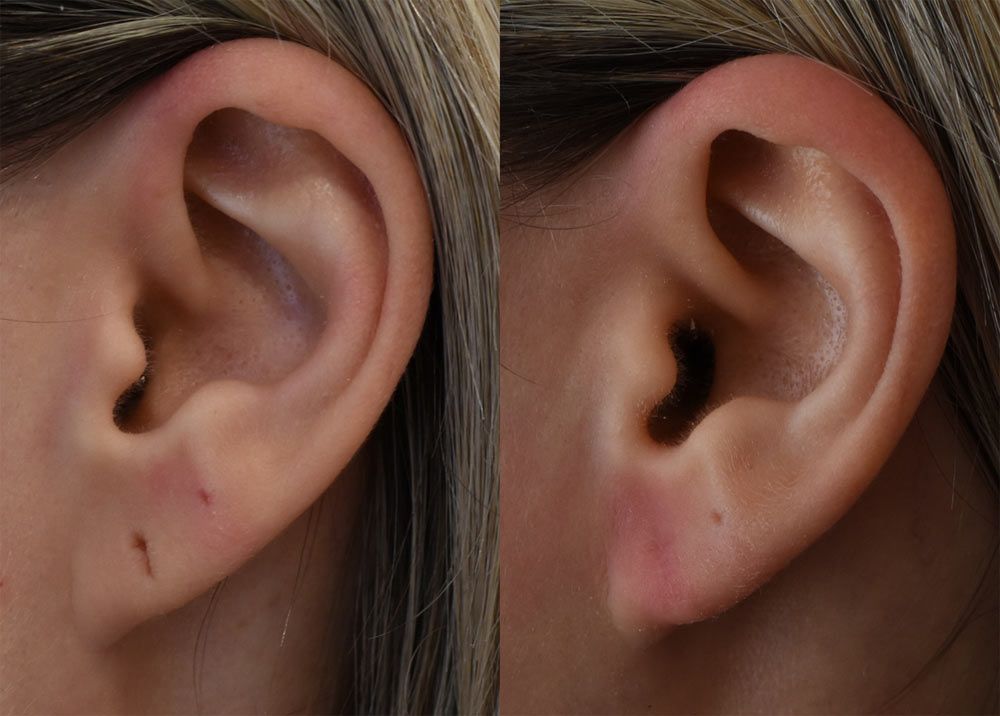 Am I a good candidate?
Some individuals have concerns about the appearance of their earlobe(s) due to age-related changes, the use of gauges, and/or trauma to the earlobe(s). Earlobe repair can address these concerns.
Most candidates for earlobe repair range in age from 20s to 70s. A consultation is essential to determine candidacy for the procedure, because there may be factors that preclude this procedure for certain individuals. Reasonable expectations must be established about what earlobe repair can and cannot accomplish as with all plastic surgery procedures. As with all facial plastic surgery procedures, results can vary.
Expected recovery
Recovery from earlobe repair is specific to the individual. The duration of recovery will vary from person to person. The recovery time for earlobe repair is approximately 7 to 10 days for most individuals. The healing process does not end at 10 days, however. For example, the incisions continue to heal for months after surgery.
Post-operative swelling and bruising are usually minimal. Post-operative swelling generally greatly improves or resolves in 7 days. Post-operative bruising generally greatly improves or resolves in 7 days.
What to expect in a consultation
Expect a detailed, informative conversation with Dr. Harmon about your concerns and aesthetic goals regarding your earlobe(s). He will assess your anatomy and develop a personalized treatment plan to address your concerns and aesthetic goals.
Frequently Asked Questions
What type of anesthesia is required?

Earlobe repair can usually be performed under local anesthesia or under IV sedation. Some individuals may require general anesthesia.

Can you perform an "earlobe lift" for drooping earlobes?

Yes. Dr. Harmon can lift a drooping earlobe with a carefully-placed incision that preserves the nature structure and shape of the earlobe.

If I am having my earlobe repaired due to the use of gauges in my earlobe(s), can the shape of my earlobe(s) be returned to the same shape it/they was/were prior to the placement of gauges?

It is unlikely that the earlobe(s) can be returned to the same shape it/they was/were before. However, the earlobes can be repaired to create more normal-appearing earlobes. The more the earlobe(s) have been stretched due to gauge use, the less like they will look like the earlobes originally did.

Is earlobe repair a painful procedure?

Facial plastic surgery procedures are generally well-tolerated by patients and typically involve little pain, especially when compared with surgery on other areas of the body. Patients are usually prescribed just a small amount of pain medication for after surgery. In fact, we have found most use only over-the-counter pain medication including acetaminophen and/or ibuprofen after surgery instead. And those who do use the prescribed pain medication usually only use it the first night after surgery. With that in mind, it is important to note that every patient perceives and processes pain differently. Some patients have a high pain tolerance. Others may be more predisposed to be more sensitive to pain. We at Harmon Facial Plastic Surgery are focused on balancing minimizing post-operative discomfort and maximizing safety.
Why Choose Dr. Harmon
The mission of Harmon Facial Plastic Surgery is to help people along their journey towards self-confidence, to feel good about feeling good.
Dr. Harmon values making patients feel welcomed, listened to, and respected.
Dr. Harmon graduated with honors from Cornell University with a Bachelor of Science degree in molecular biology.
Dr. Harmon earned his medical degree from the University of Cincinnati.
Dr. Harmon underwent five years of extensive training in head at neck surgery at the prestigious residency program at the University of Cincinnati.
Dr. Harmon then underwent focused fellowship training in cosmetic facial plastic surgery through the American Academy of Facial Plastic and Reconstructive Surgery (AAFPRS) with the world-renowned surgeon, Dr. Andrew Jacono, on Park Avenue in New York City.
Dr. Harmon posts frequently and covers a wide range of topics, including procedure-specific information, volunteering, general health, and much more. Read more from Dr. Harmon by visiting his blog.
Harmon Facial Plastic Surgery can be reached here.
Disclaimer: This page is for educational purposes only and does not constitute direct medical advice. Moreover, this page should not be used as a substitute for direct medical advice. It is essential that you have a consultation with a qualified medical provider prior to considering any treatment in order to determine whether you are a candidate for treatment. This will also allow you the opportunity to discuss any potential benefits, risks, and alternatives to the treatment.