Why Choose Us
The desire for youthfulness is understandable. There is no area more important than the face. After all, the face cannot be hidden. It is how we present ourselves to the world. Dr. Harmon works with a refined eye and trained hands to develop a personalized treatment plan with you, utilizing advanced techniques in surgical and non-surgical care of the face, nose, eyes, neck and hair.
Fellowship trained facial plastic surgeons have a unique specialized skill set in performing surgical and non-surgical procedures on the face, nose, eyes, neck and hair. The pathway to becoming a facial plastic surgeon begins with five years of rigorous training in head and neck surgery. This training is focused on all aspects of surgery for the head and neck, in addition to aesthetic and reconstructive procedures. A small pool of top performing graduates from head and neck surgery programs are then selected to complete sub-specialty training as a fellow in facial plastic and reconstructive surgery through the American Academy of Facial Plastic and Reconstructive Surgery (AAFPRS).
Dr. Harmon completed his fellowship in facial plastic surgery through the AAFPRS with the world-renowned facial plastic surgeon Andrew Jacono MD, FACS on Park Avenue in New York City.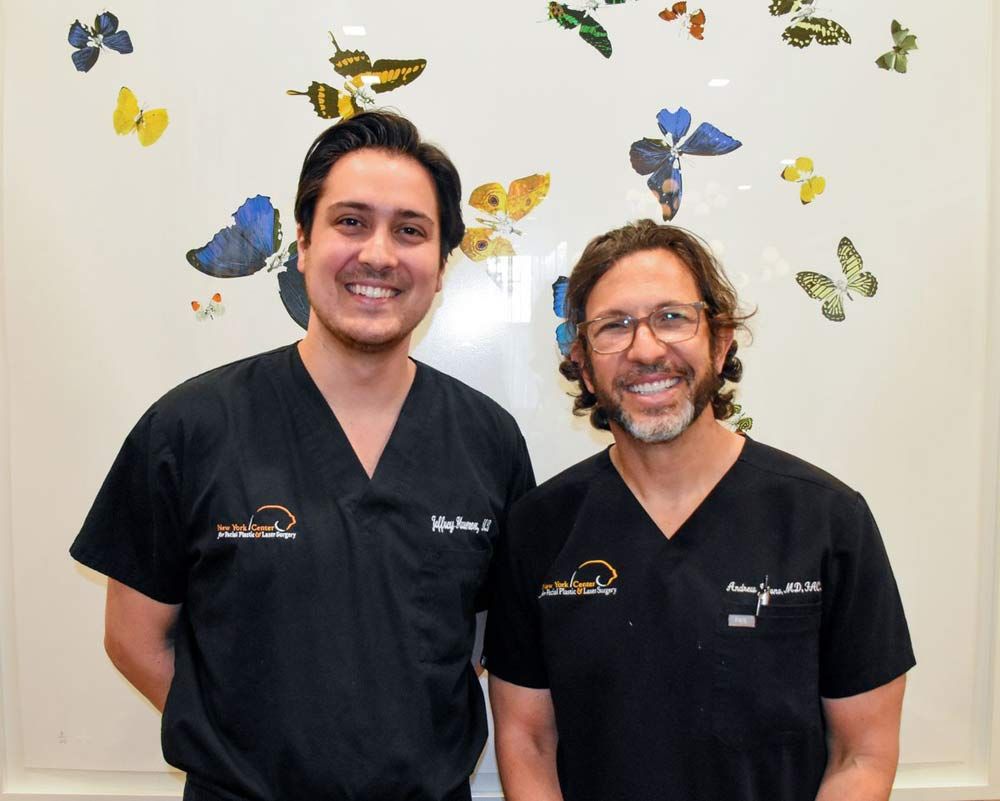 The photo above is of Dr. Jeffrey Harmon with Dr. Andrew Jacono, his fellowship director through the AAFPRS, on his last day of fellowship in New York City.
Quad A Accredited Surgery Suite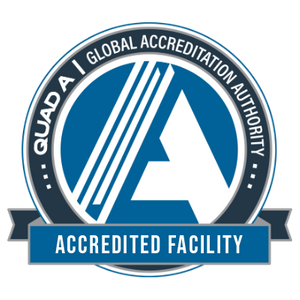 Harmon Facial Plastic Surgery is proud to have a Quad A accredited operating room and facility in our office. Our single-physician, single-specialty facility meets or exceeds the strict guidelines and high standards set forth by Quad A, demonstrating our strong commitment to patient safety and excellence in surgical care. We utilize the services of board-certified anesthesiology physicians only as well as our own personal clinical support staff to ensure the most comfortable, safest experience for our clients.
Frequently Asked Questions
What does Quad A accreditation mean?

Quad A is a national accrediting body for surgical facilities. Gaining Quad A accreditation is a rigorous process that requires adherence to the high standards for cleanliness and safety as established by the organization. A Quad A surgery suite is required to staff board-certified surgeons with hospital privileges to perform any procedure performed in the office surgery suite and anesthesia professionals to administer deeper levels of sedation. Quad A also requires that all facilities track and peer review data and develop and implement quality improvement projects.

Who administers deeper levels of anesthesia at Harmon Facial Plastic Surgery?

Only board-certified physician anesthesiology physicians deliver deeper levels of anesthesia at the surgery suite.

Can all procedures be performed in the surgery suite?

While most procedures can be performed at the surgery suite, a consultation with Dr. Jeffrey Harmon is required to determine the best facility to perform surgery.

How does the cost compare with a hospital or large surgery center?

The on-site, office Quad A accredited surgery suite is more cost-efficient compared with a hospital or large surgery center.